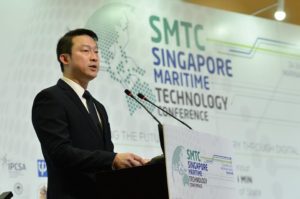 Senior Minister of State for Transport and Health, Dr Lam Pin Min, during his speech at the Singapore Maritime Technology Conference 2018 mentioned the role being played by SimPlus in helping Maritime Singapore remain vibrant and competitive. SimPlus is one of the technology developers in the process of developing enabling technologies for the safe and efficient operations at the port of Singapore in the midst of increasing vessel traffic. SimPlus develop simulation models for predicting traffic hotspots and planning systems for optimizing anchorage use.
While addressing the delegates from 27 countries in 7 different maritime sectors, Dr. Lam said,
"On its part, the Government will leverage technology to sharpen Singapore's competitive edge. You would be aware that we are building a next-generation 65-million TEU container terminal in Tuas on the western end of Singapore. I am happy to update that Phase 1 of this mega project is progressing well, and the contract for Phase 2 reclamation will be signed later today. The new Tuas Terminal will incorporate the use of new technologies and automation to enhance operational efficiency and overcome Singapore's manpower constraints.
…
MPA is also supporting the development of enabling technologies, such as the joint efforts by an A*STAR-led consortium to apply data analytics to maritime navigation and SimPlus, a local company to develop simulation models for predicting traffic hotspots. We look forward to working with more like-minded partners."
Dr. Lam's speech can be found here on Ministry of Transport website. Picture taken from Dr. Lam's Facebook page.